Sinfonia Snacks
2 juni 2022
Met de Sinfonia Snacks bieden wij u een kijkje in onze muzikale keuken. Wat gebeurt er voor en achter de schermen?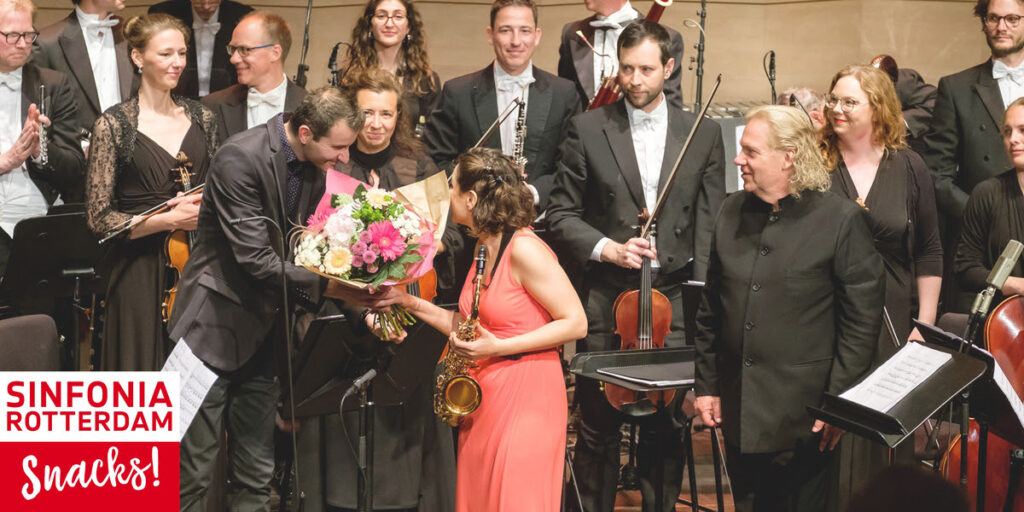 Voordat u in de concertzaal geniet van het concert, is het voor ons team hard werken, van organiseren tot repeteren. Iedereen heeft zijn rol. Altijd zijn er last-minute-dingen die wij met ons team oplossen. Is het niet linksom, dan rechtsom. Tijdens het concert Rapsodie in de Doelen liet ons team weer eens een goed staaltje samenwerking en snelheid zien.
Onze solisten en dirigent krijgen na afloop van een concert altijd een bos bloemen. Op de dag zelf zijn die op de locatie van ons concert. Zo niet op zaterdag 14 mei.
Achter de schermen vond het volgende app-gesprek plaats.
19:57: Ismar: Er zijn geen bloemen…
19:58: Ageeth: Zal ik halen bij CS?
19:59: Eveline: AH tegenover de Doelen is dichterbij!
20:00: Ageeth: Ik ga kijken!
En toen werd het stil…
Eveline zat in de zaal en wachtte met spanning af. Wat zou er straks gebeuren als onze orkestinspeciënt, Ismar, de zaal in zou komen. Met of zonder bloemen?
20:24: De deur gaat open, met bloemen!
Wat zo op het eerste gezicht ontspannen lijkt of zo vanzelfsprekend, daar kan nog weleens een heel verhaal achter zitten. Deze werveling op de achtergrond deed de naam van het concert, Rapsodie, eer aan.