Conductor – Conrad van Alphen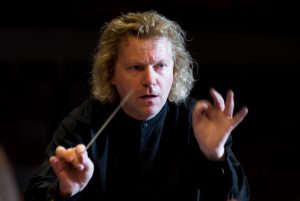 The well-established South African conductor Conrad van Alphen has gained tremendous popularity amongst musicians and audience alike for the manner in which he rehearses and performs.
"Pretoria-born Conrad van Alphen is a conductor whom musicians adore and with whom they feel artistically safe. He is someone who combines a relaxed approach with intrinsic discipline, but also reflects an ingrained, stylistically justified expressiveness that has become the core of his music-making"
"

Paul Boekoi – The Star
Maestro Van Alphen is artistic director and chief conductor of Sinfonia Rotterdam. In the past 15 years he has moulded this orchestra to an internationally acclaimed orchestra who hosts concert series in de Doelen in Rotterdam, the Nieuwe Kerk in The Hague and in the Royal Concertgebouw in Amsterdam. Recent international tours include Russia, Mexico, Brazil, Colombia and Chile.
From 2005 to 2009 Conrad van Alphen held the position of chief conductor of the State Safonov Symphony Orchestra in Kislovodsk, where he received an award for his contribution to the Arts in South Russia. Currently Conrad is artist of the Moscow Philharmonic Society in which capacity he regularly conducts the foremost Moscow orchestras in the famous Tchaikovsky hall. Furthermore he is a welcome guest conductor throughout Russia including orchestras of the well-known cultural centers Novosibirsk and St Petersburg.
In the past years symphony orchestras around the world have performed under the baton of Van Alphen in The Netherlands, Germany, Italy, Switzerland, England, Denmark, Israel, Slovenia, Serbia, Bulgaria, Romania, Poland, South Africa, China and Mexico. Conrad's debut last year with the Bochumer Symphoniker resulted in an immediate re-invitation this December, and he looks forward to his Belgian debut at the Brussels Philharmonic Orchestra in October.
Conrad has received excellent reviews internationally for his many recordings on labels Telarc, Channel Classics (Editor's choice in Gramophone Magazine), Raptus, Talent Records, Cybele and Brilliant Classics. The latest Cd recorded with the WDR Rundfunkorchester Cologne with premiere recordings of the piano concertos of Herold was excellently reviewed by the American Record Guide.
Countless soloists have enjoyed being accompanied by Conrad van Alphen. To mention just a few: Daniel Hope, Janine Jansen, Benjamin Schmid, Quirine Viersen, Ronald Brautigam, Alvaro Siviero, Ekaterina Mechetina, Simone Lamsma and Nikita Boriso Glebsky. His recent co-operation with the Russian National Orchestra and soloist Mikhail Pletnev at the festivals in Montreux and Merano has resulted in several re-invitations, stretching to a South American tour in 2017.
Conrad van Alphen was born in 1963 in Pretoria. After his music studies at the age of 26, he moved to The Netherlands and held permanent positions as a Double Bass player in the Radio Symphony Orchestra (Hilversum) and Beethoven Academie (Antwerp), whilst continuing his conducting studies under Eri Klas and Roberto Benzi.
Personal links of Conrad van Alphen: Website and YouTube
Personal links of Conrad van Alphen: Website en YouTube
Follow Conrad on Facebook en Twitter