Rotterdam's Dynamic Chamber Orchestra!
Europe's well-known harbor city proudly houses its dynamic chamber orchestra Sinfonia Rotterdam. A highly professional orchestra performing more than thirty concerts annually, frequently in collaboration with major concert halls such as De Doelen in Rotterdam and the Concertgebouw in Amsterdam.

Sinfonia Rotterdam and their chief conductor Conrad van Alphen are well known for their energetic and inspiring performances. The orchestra specializes in the repertoire from the beginning of the classical period. With this genre as basis it programs music throughout the centuries, on occasion even commissioning new compositions.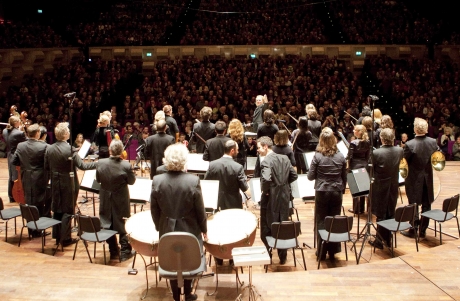 Rotterdam
In Rotterdam the orchestra enjoys a co-operation with the city's concert hall "De Doelen" where it is annually invited to play in the hall's prestigious concert series and hosts its own concert series. Furhtermore the orchestra hosts events and family concerts in the beautiful ballroom of the Wereldmuseum Rotterdam.
The Hague and Amsterdam
Sinfonia Rotterdam regularly performs in the Royal Concertgebouw in Amsterdam. In the famous "Nieuwe Kerk" in The Hague the orchestra presents their succesful "Classic and Wine" series.
Touring
The orchestra crosses through The Netherlands to perform, from Terneuzen to Groningen, from Heerlen to Amsterdam. The Netherlands.
International touring countries have included Germany, United Kingdom, Slovenia, Macedonia, Mexico, Russia, Chile and Brazil. In the next season Sinfonia Rotterdam returns for the 6th time to South America for an extensive tour.
Recordings
Sinfonia Rotterdam has recorded for prestigious labels such as Channel Classics, Talent Records and Telarc for which they have been praised in many reviews of renowned magazines such as the Gramophone.
Discover the orchestra for yourself on YouTube, where you can see films of live performances in Rotterdam and in the Concertgebouw in Amsterdam.